Welcome to the implementation in the central warehouse for foreign and Polish branches of Merida in Tyniec Mały. As part of the investment, the commercial BOxSS system was installed.
Components of the automated warehouse in Merida
As part of the automation of the central warehouse, the following were used:
A storage rack 16 m long, 8 m high and 2 m deep, for 700 boxes with dimensions 400x600x320 mm;
Automated robot BOxSS

;

GTM (Goods to Man) station;
Transport section for buffering containers - integrated with the warehouse space.
The automation used: BOxSS system 
The BOxSS is an ASRS (Automated Storage and Retrieval System) automated product storage and retrieval system that enabled the handling of goods stored in containers. This autonomous robot is radio-controlled and located on top of the warehouse. It is equipped with a gripper that can lower itself along the entire rack to select a specific container. This allows access to any location in the warehouse.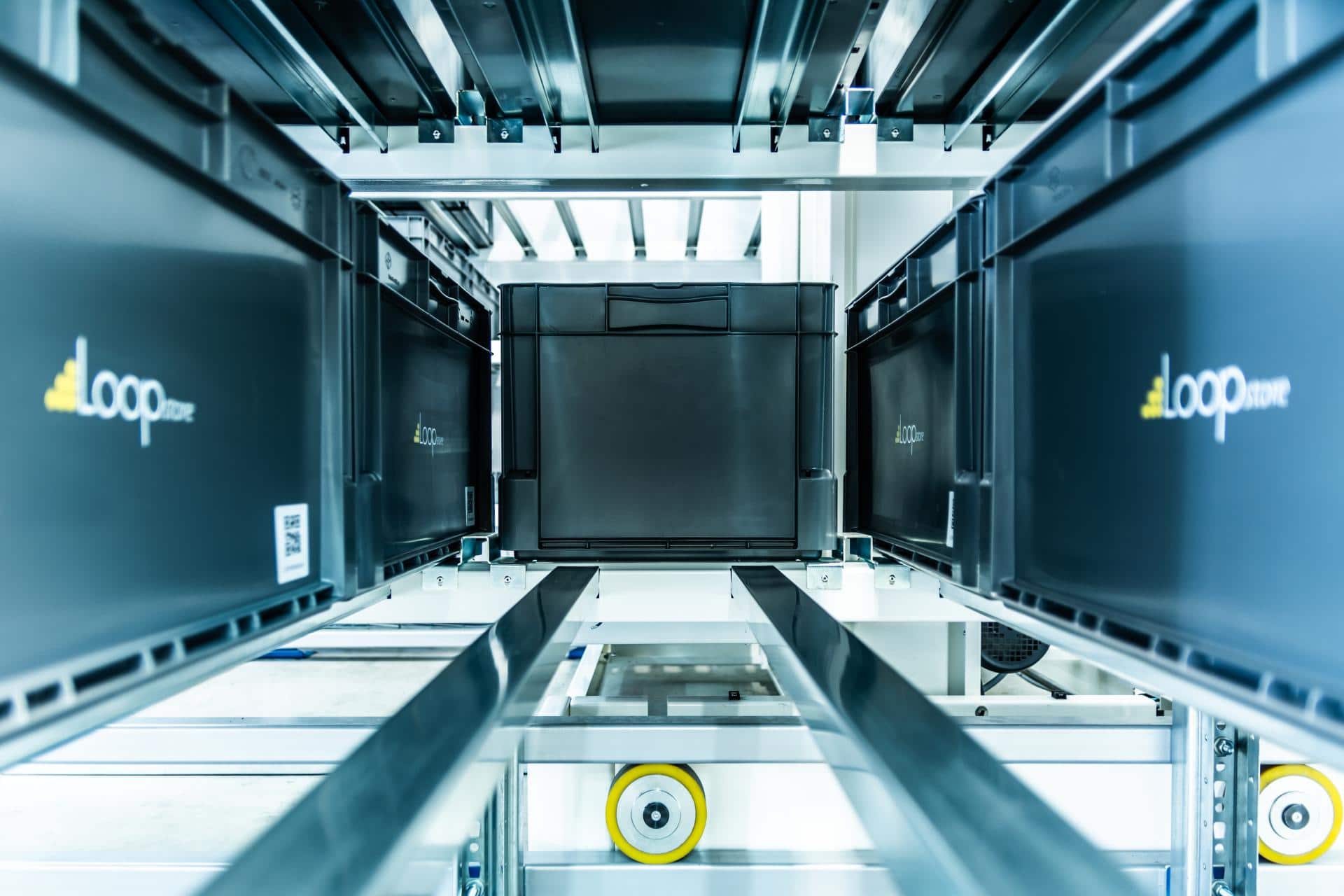 Operation of the storage system
The warehouse system is operated using an integrated BMS (building management system) software that communicates with the customer's WMS (warehouse management software) to exchange data on orders, picks and warehouse status. The BMS can also operate independently of the WMS, meaning that the operator can enter orders and retrieve the desired products himself.
The BOxSS system allows for goods management, prioritization, optimization of stored stocks and automatic placement of products depending on their rotation.
With the help of an operator station, the system allows the picking and replenishment of stocks, and only one person is required for operation.
The system for the Merida logistics center was designed so that the containers move only inside the system, which allows for their full control and prevents damage or mistakes.
Technical parameters of the implementation
Power
2,65 [kW]

Supply voltage / network type

400 VAC TN-S

Control voltage

24 [V] DC

Overcurrent protection

16 [A]

Capacity

650 containers (600x400x320 mm)

Efficiency

60 [s/container]

The capacity of roll buffer

4 [containers]

Maximum load

25 [kg/container]

Dimensions of handled containers

600x400x320 [mm] (nr 8312000C50-002)

600x400x220 [mm]

600x400x120 [mm]

Overall dimensions

width = 3 [m]

length = 18 [m]

height = 8 [m]

Type of operation

Automatic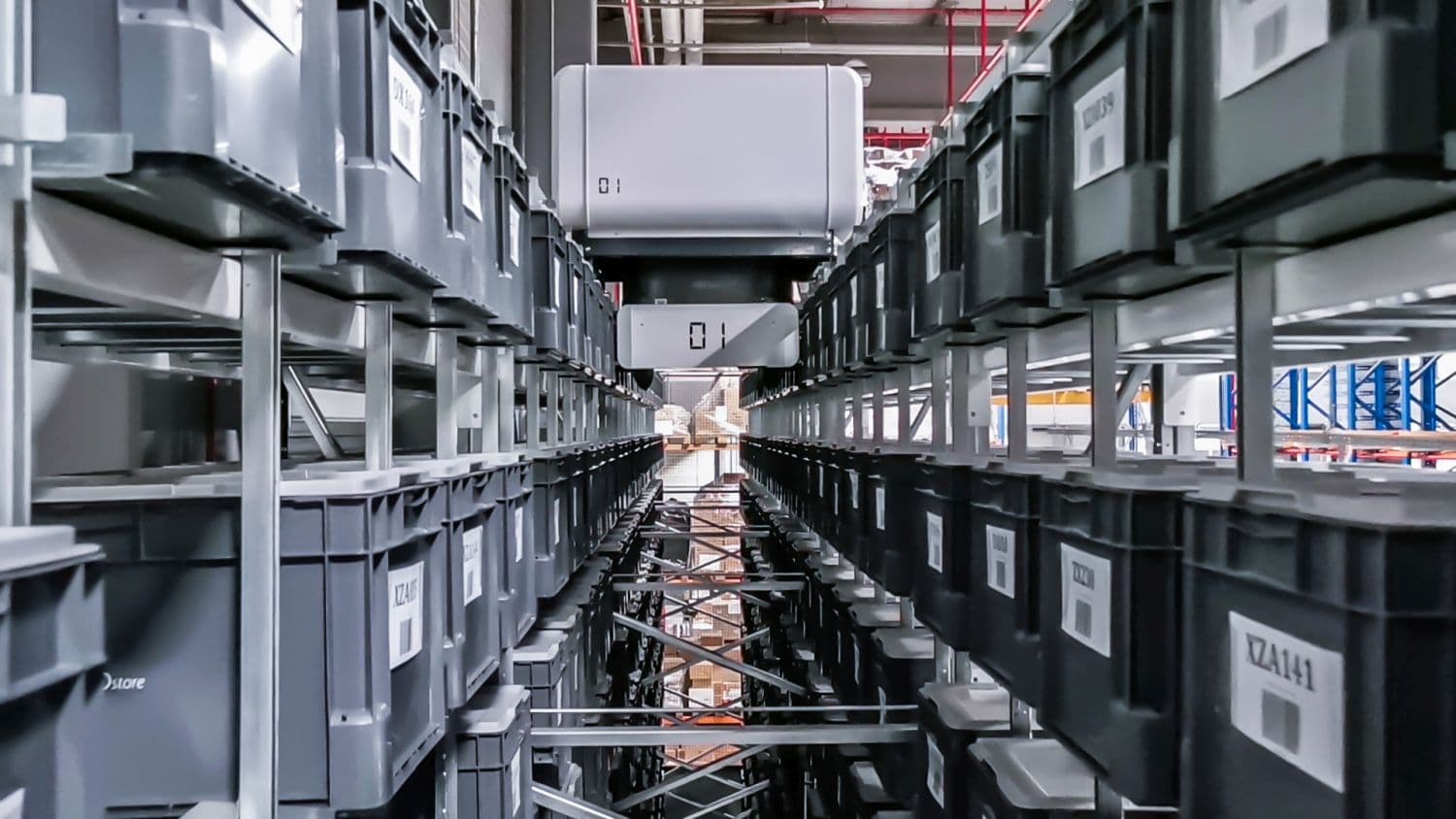 Benefits of the implementation of an automatic warehouse in Merida logistics center
Reduction of storage space for goods with small dimensions;

Direct access to goods from one place (GTM station);

Accelerated picking (while the warehouse brings the containers to the buffer, the operator collects the bulky items stored in the standard way, then drives to the station and pulls the goods out of the boxes one by one, without waiting until the robot brings them in);

Generating online reports, e.g. about the state of the warehouse (inventory), shortages or low stock, etc;
Does your warehouse also require automation? Feel free to contact us!
Project carried out together with Nedcon Silesia.